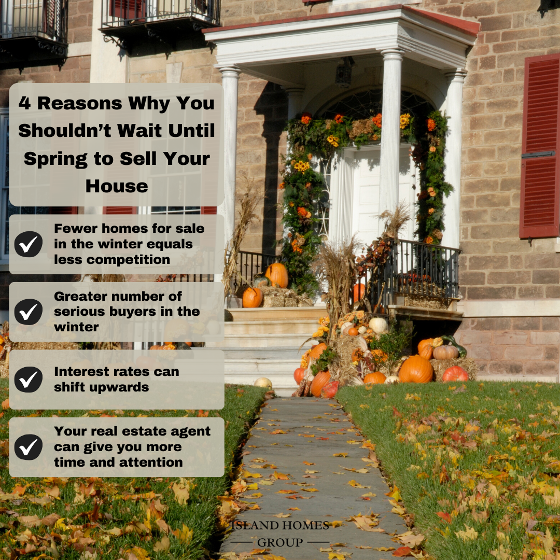 It's often said that spring and summer are the best times to buy or sell a house. However, there are some key advantages to selling your home during the winter.
Here are four reasons why the spring and summer aren't always the best times to sell a home
1. Fewer homes for sale in the winter equals less competition
Postponing the sale of your home until spring could result in greater competition due to a larger pool of available properties. But if you were to list your home during the winter, less competition will make it easier for buyers to notice your property.
2. Greater number of serious buyers in the winter
If you listed your house during the winter and hosted an open house on a cold day, most people aren't going to venture out unless they're serious potential buyers. So, while your property might receive less foot traffic in the winter compared to the spring, those who visit the property are looking to make a worthwhile offer.
3. Interest rates can shift upwards
Mortgage interest rates can shift upwards between winter and spring. If you postpone listing your home and rates begin to rise, this may limit the number of buyers who can qualify for a loan to purchase your home.
4. Your real estate agent can give you more time and attention
Your real estate agent might have fewer clients during the winter compared to warmer months. If so, they can devote more time and attention to selling your property and helping you find your next place.
It's ultimately your decision whether to sell in the winter or wait until the spring or summer. If you're eager to sell your home and purchase a new place, now's the time to list.